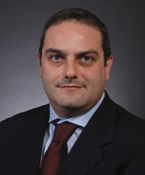 Carlo De Bernardi holds a Master's in Civil Engineering from the University of Pavia in Italy.
He has 18 years of experience in the Oil & Gas where he started as a Process Engineer and then worked for a large American valve Corporation in various Engineering, site service and Project Management roles in several international locations. Carlo moved to Houston, TX, in 2005 and joined ConocoPhillips in 2012 as Corporate Valve SME supporting both Company's Projects and Operations globally. Carlo is also leading several innovation Projects ranging from online valve condition monitoring systems to validation and use of Additive Manufacturing processes in Oil & Gas applications in collaboration with other Major Oil Companies and Manufacturers.
Carlo holds U.S.A. and Italy dual Citizenship and he's an API Voting Member on all documents managed by Subcommittee 6 (API 6D, 6DSS, 6DX, 6DSSX, 6FA, API 20 series.