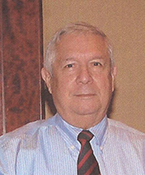 Crane Chempharma & Energy (Fluid Handling)
Mr. Davila is a registered professional engineer and a graduate of the University of Houston with a Bachelor of Science in Mechanical Engineering.
With over 40 years of experience in the valve industry, Carlos background includes design, development, application and production of valves.
Currently he is Product Manager-Americas, for Crane ChemPharma/Energy (Fluid Handling). Previously held positions include Chief Engineer, Technical Operations Manager and General Manager.
He has written and published several papers in ASME and Hydrocarbon Engineering. Active voting member of the API Manufacturers Subcommittee on Piping and valves for over 30 years. Current Vice-Chair of the ASME B16 Standards Committee, member of B16 Subcommittee C, Flanges, B16 Subcommittee N, valves and the USTAG committee.
Voting participant in ASME B31.3 Standards Committee addressing Process Piping. Current member of the MSS Board of Directors and chair of Technical Committees 304, Quality Standards, 406, Diaphragm Valves and 110, Steel Flanges. Active in ISO standards activities as member of the ANSI/ISO Team and Chair of ISO TC5/SC10, Metallic Flanges and Components.