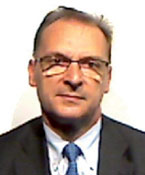 Total Exploration & Production
Technologies of the Development Division, Head of the Piping, Valves and Vessels Department (TEC/PVV).
Joined TOTAL in 1993 after 15years spent with a French Engineering company.
Head of the PVV department since 2011.
Deeply involved in valve engineering, associated special process manufacturing, sealing barrier assessment, valve manufacturer technical and quality assessment.
Has developed a first Rapid Gas Decompression test protocol in 1999 for elastomeric material performance assessment, part of our general specification 'Valves'. The tests are run at CETIM (France) using a dedicated test bench.
Member of API 6D and 6DSS Working Groups.
Scope of the department: basic and detailed engineering development, assistance to operational affiliates, qualification of suppliers, quality control activities.