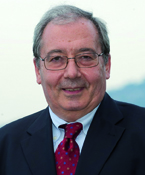 Maurizio Brancaleoni, born in 1947, is graduated in Physics. He is happily married and has two children.
He is currently working as private consultant, providing marketing and applications expertise, along with training, to the valve and actuator industry.
Today is President of:
IVS Scientific Committee
ATI (Italian Thermotechnical Association) – Lombardy Section
ValveCampus Association
President of UNI Industrial Valves U53 Standardization Committee, where he is also in charge of the Italian delegations in CEN TC69 and ISO TC 153 SC2.
From 1992, he is also the Convenor of CEN/TC 69/WG1/SG10 (Industrial Valve Actuators), and has been the founder and co-chairman for the American Committee SP 96 (valve Actuators' Standards), of ISA (International Society for Automation).
He began his career in 1970, as Instrument Engineer, dealing with control systems and process instrumentation for an important international EPC, active in the petrochemical, chemical and power sectors.
In 1976, he accepted took on the role of sales director for AUMA Italiana S.r.l, main European branch of AUMA Riester GmbH, where – starting from 1981 – he also covered the role of Managing Director.
He has been President – and he is currently active Member- of AIS – Associazione Italiana Strumentisti (Italian Association of Instrument Engineers) and has covered the role of President, for four consecutive years, at ISA Italy Section and, for additional four consecutive years, he was ISA District 12 (Europe and India) Vice President.
From 1998 to 2001, he was President of G.I.S.I. (Italian Group of Instrumentation Firms).
He has been member of FAST Directory Council and joined the HLEG and M&T Experts group of European Commission's DG XII.
He was also member of the Board of Federprogetti (Italian Federation of Plant Engineering) and he is currently Member of ANIMP (Italian National Industrial Plant Engineering Association).
From 2000 to 2006 and from 2008 to 2014 he covered the role of Vice President in ANIMA Federation (Federazione delle Associazioni Nazionali dell'Industria Meccanica Varia e Affine – National Association of Mechanical Industry Federation) associated with Confindustria.
He has been for 10 years (2001-2011) President of PASCAL Consortium, the first Italian private notified body in charge of pressure equipment certification (PED, 97/23/CE).
From 2004 to 2006, as member of Confindustria Energy Commission, he coordinated the Working Group over cogeneration activities. In 2006, he was elected President of the newly formed ANIMA/Italcogen (Associazione Italiana della Cogenerazione – Italian Cogeneration Association). In 2006 and 2007, within the CONFINDUSTRIA/ANIMA-ANIE Working Group, he significantly contributed to the preparation of the "2007 White Book on Italian Energy Sector".
From December 2007 to 2014, he was also President of AVR (Associazione Italiana dei Costruttori di Valvole e Rubinetteria – Italian Valves and Taps Constructor Association), where he was previously Vice President as Coordinator of the Industrial Valves and Actuators Group.
From 2009 to 2011, he was President of CEIR (European Federation of Valves, Actuators and Taps Manufacturers' Associations), which represents and takes cares the interests of the industry at European levels; in the federation he previously covered the role of President of PC3 (Industrial Valves and Actuators).
He has participated actively in the organization of several conferences and meetings, both national and international, in the automation, industrial plants and energy fields, where he provided his contributions and wrote several articles, which were published in main sectors' magazines.